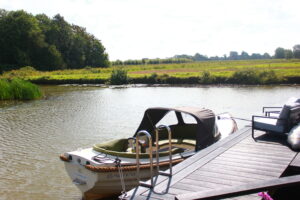 Sloepverhuur Stiens (Friesland)
Fluisterstil genieten van de elfstedenroute en het culturele Leeuwarden.
Bij Happywhale vinden wij dat iedereen moet kunnen genieten van een dagje varen. Kies zelf uit één van onze locaties en reserveer eenvoudig en snel een sloep via onze website.
Ontdek de elfstedenroute in Friesland en vaar vanaf Stiens richting Bartlehiem of ervaar de binnenstad van Leeuwarden. Ervaar de stilte van de natuur of de oude grachten van Leeuwarden.
De sloep kan gehuurd worden per uur, per dagdeel of voor een gehele dag. Selecteer "nu boeken", kies een datum, en reserveer direct uw fluisterstille avontuur met Happywhale.
HappyWhale staat voor:
– Geruisloos genieten
– Comfortabele sloepen
– Zelf besturen & eenvoudig te bedienen
– Tot 12 uur probleemloos varen
Adres:
Eysingastrjitte 10
9051PZ
Stiens
---
Other locations in Friesland - Stiens
HappyWhale facts
A number of facts in a row
45
Sloops spread over Friesland
12
HappyWhale rental locations
10,715
Electrically made sailing hours
27,323
Liter of fossil fuel saved