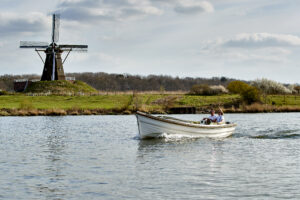 Sloepverhuur Limburg
Genieten van de mooie omgeving rondom Limburg - Kessel
Bij HappyWhale vinden wij dat iedereen moet kunnen genieten van een dagje varen. Kies zelf uit één van onze locaties en reserveer eenvoudig en snel een sloep via onze website.
Sloep varen vanuit romantisch Limburgs Maasdorp Kessel
Adres:
Oppe Loswal 1
5995 MB Kessel
Tel. 085-303 27 87
Website: www.sloepverhuurlimburg.nl
Parkeren: Onze sloepen vertrekken vanaf de autovrije Kesselse Loswal. U kunt parkeren naast de Beeselseweg, op het pittoreske pleintje Veers of aan het Veersepad. Vervolgens loopt u in enkele minuten naar de Maasboulevard. 
Sloepvaren. Dat is de zon op je gezicht, de wind door je haren. Dat is genieten! Sloepverhuur Limburg biedt vanuit romantisch Maasdorp Kessel een heerlijke vaartocht over de Maas tussen Venlo en Roermond. Maak er met je gezin, vrienden of collega's van een heerlijke dag van!
Vanaf de Loswal – aan de voet van Rijksmonument Kasteel De Keverberg – verken je de Noord Limburgse Maas met een van de eenvoudig te bedienen elektrische sloepen. Cirkel rond op een van de ontgonnen grindgaten, vaar de Maasarm bij Neer in en uit en ontdek waterrijk natuurgebied De Asseltse Plassen. Dát is genieten op de golven van de Maas.
Parkeren:
Veers 10 parkeren; loop naar beneden naar veerpont en ga dan links naar de Maas Boulevard
Een sloep huren in Kessel? Voor twee uren, dagdeel of gehele dag? Selecteer "nu boeken", kies een datum en reserveer online.
HappyWhale staat voor :
– Geruisloos genieten
– Comfortabele sloepen
– Zelf besturen & eenvoudig te bedienen
– Tot 12 uur probleemloos varen
---
Other locations in Limburg - Kessel
HappyWhale facts
A number of facts in a row
45
Sloops spread over Friesland
12
HappyWhale rental locations
10,715
Electrically made sailing hours
27,323
Liter of fossil fuel saved